Stock Information
General Information
| | |
| --- | --- |
| Authorized shares | 320,000,000 shares |
| Issued shares | 50,000,000 shares |
| Number of shareholders | 9,000 (as of September 30, 2021) |
Major Shareholders (Top10)
as of September 30, 2021

Shareholders
Investment in the Company

Number of shares held

Ownership ratio(%)

The Master Trust Bank of Japan, Ltd. (Trust account)
5,512
11.18
THE BANK OF NEW YORK MELLON 140051
2,647
5.37
Daishi Hokuetsu Bank, Ltd.
2,184
4.43
The Dai-ichi Life Insurance Company, Limited
2,100
4.26
JP MORGAN CHASE BANK 385632
1,956
3.97
THE BANK OF NEW YORK 133652
1,862
3.77
Custody Bank of Japan, Ltd. (Trust account)
1,746
3.54
Sumitomo Mitsui Banking Corporation
1,516
3.07
PICTET AND CIE (EUROPE) SA, LUXEMBOURG REF: UCITS
1,157
2.35
TSUGAMI Customers' Shareholding Association
1,080
2.19
Notes:
1. In calculating the ratio of holdings, treasury stock was excluded. The ratio was rounded down to the second decimal place.
2. There are 5,731 thousand shares of treasury stock listed in the shareholders' register other than the shares listed in the table above.
Shareholders composition by type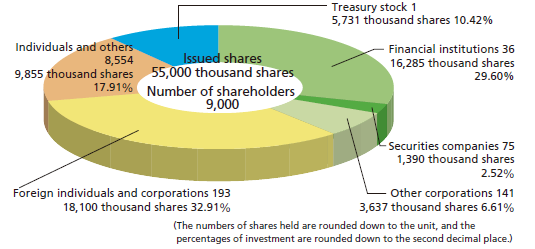 Ratings and Corporate Bonds
Currently, there are no bonds issued by the Company and as such no rating is applicable.

Management Policy

Financial Information

Stock Information

IR Calendar